The Georgetown Difference
Invested in providing a transformative experience through training, resources, and personalized career strategies in order to equip you to reach your career aspirations.
Mission
The Executive Master's in Clinical Quality, Safety, and Leadership (EM-CQSL) program seeks to transform motivated healthcare professionals, such as medical practitioners, physicians, nurses, pharmacists, allied healthcare providers, researchers, and patient advocates, into future quality and safety healthcare leaders. Georgetown University's Executive Master's in Clinical Quality, Safety, and Leadership program successfully addresses the deep need for transformational change in healthcare through collaboration, interdisciplinary learning, and creating and communicating knowledge. This is done by imparting safety science skills, quality improvement methods, research, and adaptive leadership, resulting in effective and sustainable improvements. The Georgetown University Executive Master's in Clinical Quality, Safety, and Leadership program, in collaboration with MedStar Health, leverages content experts in the quality, safety, and leadership fields. This environment promotes advanced discipline competence, thus creating a dynamic learning experience enriched by evidence-based practice and high-impact scholarship, all within an online learning environment. The program meets the needs of our working healthcare professionals, making them reflective lifelong learners.
Vision
The Executive Master's in Clinical Quality, Safety, and Leadership program aspire to be the premier patient safety, clinical quality, and leadership program in the country as recognized by students, alumni, employers, community, and healthcare industry stakeholders.
Values
Consistent with our mission and vision statements, the EM-CQSL program was built upon the following values:
Diversity, equality and inclusion
Integrity
Respect
Collaboration
Continuous improvement
Being in service of others
Executive Master's Program Outcomes
---
| | | | | |
| --- | --- | --- | --- | --- |
| | 2018-2019 | 2019-2020 | 2020-2021 | 2021-2022 |
| Full Time Enrolled | 2 | 7 | 6 | 12 |
| Completion Rate | 100% | 100% | 100% | |
| Part Time Enrolled | | 1 | 3 | 2 |
| Completion Rate | | 100% | | |
Program Competencies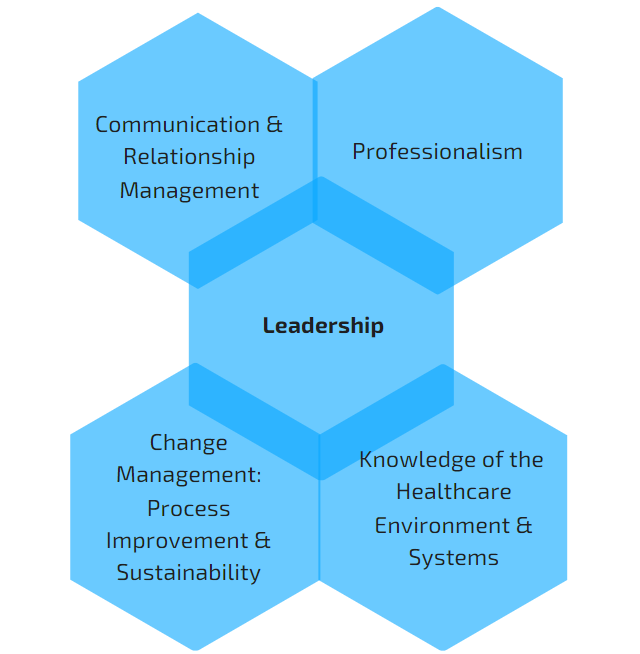 A competency-based curriculum develops a curriculum that considers what learners are expected to demonstrate rather than mainly focusing on what they are expected to know or retain. The competency model in this program is a framework that was developed based on desired performance outcomes. The curriculum and facilitation methods support the attainment of the competency. The competency model is not a substitute for the class grade. Students will be assessed on their level of attainment of those competencies during each course and will receive constructive feedback.
Competency Domains
Leadership: The ability to inspire individual and organizational excellence, create a shared vision and successfully manage change to attain an organization's strategic ends and successful performance.
Analyze the role that leadership has on the creation and maintenance of a safety culture (i.e. reporting, just culture).
Incorporate leadership skills, behaviors and management techniques into activities.
Demonstrate how to influence and support safety/quality (through the development of a mission and vision statement, and or prioritization of strategic goals).
Illustrate how to lead through the change process.
Promote diversity of thought to support innovation, creativity and improvement.
Professionalism: The ability to align personal and organizational conduct with ethical and professional standards that include a responsibility to the patient and community, a service orientation, and a commitment to lifelong learning and improvement.
Demonstrate commitment to self-development including networking, reflections, and self-directed learning.
Demonstrates an awareness of one's own assumptions, values, strengths and limitations.
Demonstrate reflective leadership by using self- assessment and feedback from others in decision making.
Communication and Relationship Management: The ability to communicate clearly and concisely, establish and maintain relationships, and facilitate constructive interactions with individuals and groups.
Apply principles and strategies of communication.
Describe the role/impact of a hierarchy in a healthcare organization.
Prepare and deliver communications (oral and written) such as presentations, data analysis, proposals, and project communication plans, and Capstone.
Demonstrate how to build effective multidisciplinary teams.
Identify key components of a disclosure.
Knowledge of the Healthcare Environment and Systems: The demonstrated understanding of the health care system and the environment in which health care providers function.
Assess the interrelationships among access, quality, cost, resource allocation, safety, and risk.
Analyze and apply funding and payment mechanisms/models of the healthcare system.
Effectively use risk management principles and programs, such as risk assessment, reporting, analysis, and human factors engineering to promote quality and safety.
Demonstrate knowledge of governmental, regulatory, professional and accreditation agencies.
Effectively recognize and promote patients and their family's/caregiver's perspectives in the delivery of care (Include the perspective of individuals, families and the community as partners in healthcare decision- making processes, respecting cultural differences and expectations).
Demonstrate an understanding of the interdependency, integration, and competition among healthcare sectors.
Change Management -Process Improvement and Sustainability: The ability to apply quality improvement methods and models of change, including systems thinking, to the healthcare environment.
Demonstrate critical thinking – Collate and interpret relevant data and information (from various sources) and analyze and evaluate this information to inform or support effective decisions, investments, or recommendations.
Evaluate Quality Improvement Models (i.e. PDSA, Lean, & Six Sigma, heuristics etc.).
Develop a proposal, using the five phases of Six-Sigma methodology (DMAIC), to advance a process improvement project. The proposal must specifically define the problem, measure the problem, identify the cause(s) of the problem, determine and test corrective actions, and finally, determine how to sustain the improvements.
Seek information from a variety of sources to support organizational performance, conduct needs analysis and prioritize requirements.
Apply a change management model/process.
Competency/Proficiency Levels
Level 1: Beginner
Level 2: Intermediate
Level 3: Advanced
The student has a common knowledge or an understanding of basic techniques and concepts.
•Focus on learning.
The student can successfully complete tasks in this competency as requested. Help from an expert may be required from time to time, but you can usually perform the skill independently.
•Focus is on applying and enhancing knowledge or skill;
•You have applied this competency to situations occasionally while needing minimal guidance to perform successfully;
•You understand and can discuss the application and implications of changes to processes, policies, and procedures in this area.
The student can perform the actions associated with this skill without assistance. The student would be recognized within his/her peer group or organization as "a person to ask" when difficult questions arise regarding this specific skill.
•Focus is on broad organizational/professional issues;
•You have consistently provided practical/relevant ideas and perspectives on the process or practice improvements which may easily be implemented;
•You are capable of coaching others in the application of this competency by translating complex nuances relating to this competency into easy to understand terms;
•You participate in senior-level discussions regarding this competency;
•You assist in the development of reference and resource materials in this competency.
Executive Master's Information Session
The EMCQSL program is in collaboration with MedStar Health and administered by Biomedical Graduate Education at Georgetown University.